ANNUAL REPORT TALLINN YWCA-YMCA
01.01.2013 – 31.12.2013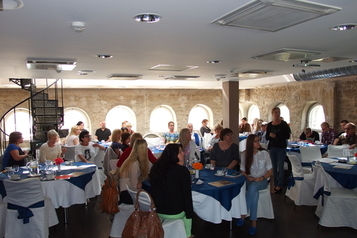 2013 activities
1. Leadership
Board meetings 20.02.2013, 14.09.2013, online board meetings January 16-19, 2014
Annual Membership Meeting of Tallinn YWCA-YMCA May 17, 2013
Annual membership Meeting of Estonian YWCA-YMCA May 26, 2013
2. Members events
Charitable sale March 1-31, 2013
Charity auction May 1, 2013
Summer meeting in Ida-Virumaa Narvas July 19-21, 2013
Christmas event in Vihula manor, in Lääne-Virumaa, December 13-14, 2013
3. Trainings, seminars
French language courses - fridays at 12-13.30
Women's School (parents School):
- Spring seminar "Parents and young people" April 27, 2013 Tallinn
- Summer seminar "Parents and environment" June 28-30, 2013 Ruhnu island
- Autumn seminar " Parents and family" September 13-15, 2013 Rannapungerja Camp
4. Activities for young people
· Young leaders training November 2-13, 2013 in Vihula manor
· Summer seminar for children with special needs August 11-18, 2013 in Rannapungerja Camp
· Adventure and music camps June-August 2013, in Rannapungerja Camp
Projects for youth on 2014:
- Vocational education project for young people with special needs - Tee iseseisvasse ellu
- Young leaders training project
- Training project for Women – Women's School
- Charity project – Sale and Auction
With the money collected we will help underprivileged kids to stay in our camp and we contribute towards building a stage at the camp.
MEMBERS
January 2014 Tallinna YWCA-YMCA had 63+42 (children with special needs) fullmembers and 365 participant members.
Participants in project, programs, events

members

(age 7-30)

Non-members

(age 7-30)

Members (30+...)

all participants

Young leaders project

6

7

13

Women's School

2

3

35

40

Tee iseseisvasse ellu

42

42

Rannapungerja Camp

5

365

370

Language Courses

5

5

Auction

5

15

35

Christmas event

7

47

54

Annual meeting

23

23

Summer meeting

2

15

17


In 2013 the membership fee received was 506 €. Membership fee is 10 € for adults and 3 € for school-age, children with special needs are free from membership fee.
Project leaders in 2013:
Piret Kutser, Tea Jõgel - Charity
Ruuda Lind, Kristel Kaiv - Children with special needs
Tea Jõgel - Rannapungerja Camp
Katrin Ohno - Language courses, Women/parents
School, Young leader project

Volunteers 2013:
Volunteer of the year – Ulvi Lagemaa for Charity sale
Other volunteers:
Tiit Lagemaa, Andre Kalmus, Kristel Kongas – board members
Rain Kuus, Carel Kuus, Ahti Truupõld, Carmen Kuus, Tiiu Õunapuu, Nona Viro, Rita Turu, Karolin Jõgel, Kätlin Suimets, Pille Mänd, Anu Kerdo and others – Charity Sale
Mait Kutser – Charity Auction
Tallinn YWCA-YMCA property:
1. 4 buildings on 22 hectares of land: renovated camp house with 12 bedrooms for 48 persons, toilets and bathrooms, kitchen with canteen, sauna and game house – Rannapungerja Camp


2. Modern office – 2 desks, 3 modern computers, meetingroom.
2014 trends
Strategic objectivs 2012-15:
1. Unique camp in Estonia
2. Members participate actively in the activities of Tallinn YWCA-YMCA and take the initiative in conducting events. The proportion of men among the membership grows by 10% per year.
3. There is a group of young leaders – at least 10 members, 50% men.
4. Organization's funding is adequate and consistent, self-generated income is 50% of the revenue base.
5. There is a acting internal communication and communication strategy.
6. Traditional events are held beside innovative activities. There are new traditions and new activities based on youth interests.
7. Board manages organization actively.
New trends for 2014-2015
Outdoor stage construction, camp for use in autumn and spring period
Charity shop will continue once a year during April or May.
Start language courses in english, spanish and russian.
Presentation through social media, like Facebook.
We have secured through the contract on property the sustainability of Tallinn YWCA-YMCA.
OUR SUPPORTERS/SPONSORS
PG Moberg
Mats Olsen
Lauri Lind
Estonian YWCA-YMCA
Tallinn City Government
Gambling Tax Council
Ministry of Education and Science